Machine learning techniques that form the foundation of AI are changing how we view risk management. As companies face exponentially growing amounts of data that can overwhelm the individuals decision-making ability, the emergence of Machine Learning provides a powerful new method for helping people improve decision-making bandwidth, responsiveness to risk, accuracy and consistency of results.
In our latest episode of Bramasol's Insights to Action Podcast Series, Birgit Starmanns, Global Head for Thought Leadership Strategy and Programs at SAP's Global Center of Excellence for Finance and Risk, discusses Machine Learning – what it is and how it can be applied to finance and risk management.
Birgit Starmanns provides an in-depth exploration of Machine Learning and its benefits. Also, she discusses about how machine learning can accelerate the entire process of an M&A, especially in the area of accounts receivable, real-time data collection, and more in-depth research of business targets.
Listen Now, If you are curious to get the answers around this core topic, where we have covered basic to high-level questions.
You will get to hear on the following points;
Overview of Machine Learning
How Machine Learning can be automated?
Benefits of Machine learning
How Machine learning can be predictive as well? .
And much more!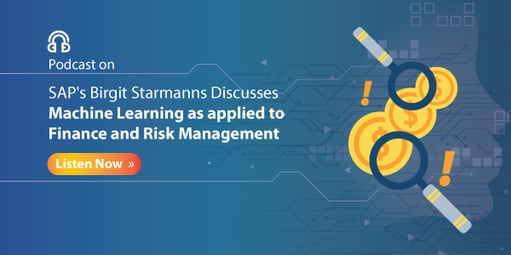 or click here to read the discussion
and Listen to our other Podcasts