In my previous blog I suggested that there are three things that we must do if we are to succeed at anything.: Focused preparation that is aligned to our corporate vision, excellence in execution and thoughtful follow through. The crucial first steps are to create a clear vision of success and then setting goals to achieve that vision. Embarking on any project be it a presentation or an IT project such as Revenue Accounting without a vision and roadmap/goals is insanity. It is akin to getting in a car and driving with no destination in mind, no map, and no idea of when you plan to get there. Then add a mud-covered windscreen and you have a recipe for disaster.
During the Pre-season NFL teams across the league play with a roster of 72 players, testing all of them and trying different options to form the team they hope to take to the playoffs and beyond, maybe even the Superbowl. In September, they must cut down to 55. Each player has worked and prepared in the hopes of being chosen for the roster.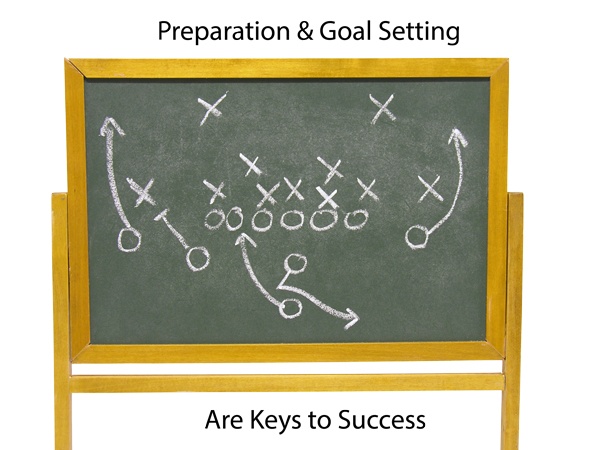 Coaches have observed and prepared. The coaches will now set their focus and direction for the season, choosing the team members who will help them achieve their goals. They will decide, are they a passing team or a rushing team. Will they choose offense or defense or balance the two. They decide what they are, and what they are not.

Successful companies focus on what makes them unique and play to their strengths and offset their weaknesses. When preparing for a project, sale or presentation it is critical to set a vision that is aligned to your corporate vision and then be clear about the goal or outcome you want to achieve. Too often, we fail to do this and end up surprised when we fail to achieve the outcome we wanted. Well, if we don't define it, how can we expect to reach it.

The outcome must be specific. Make a sale, have a good meeting or get applause won't cut it. We must have a specific goal of selling a particular product or service at a target profit margin by a date certain. Once the goal is defined, we can map it our route. In the case of a project this is the blueprint.

When we build a house the blueprint shows what is going to be built to what specification. In a project a blueprint defines what the project will achieve. It defines the desired results of the project and how will they be achieved. In the case of a sale, the close plan maps what happens when, by whom and the results. For a presentation it is the agenda, as well as the review document or survey. Yes, the survey. By thinking about the questions you are going to ask on the survey on the presentation, you define your success criteria and determine the outcome you expect to achieve. Once there is a clear roadmap you can build the team to get you there.

We assemble teams of people who are like minded and believe like we believe . I am not talking about religious beliefs, demographics or personality styles. Rather a team of individuals who can believe in the vision and culture of the organization or team they are joining. For example, in some teams, delivering the project at the lowest cost and on budget is a priority, whereas, on other teams delivering on time is the most critical aspect of the project. In each of these, the behaviors, actions and alignment of the team will be different.

Once you have set your goals and defined the plan path to get there, you must practice. In sports, let's say golf, you study the course to get clear understanding of where and how it plays to your strengths and challenges your weaknesses. You then go about a deliberate practice. This practice simulates the on course issues you might face. If the course offers a large number of doglegs you might practice your draws and fades to help position you strongly. If the course offers the challenge of bunkers and hazards, you practice those, simulating situations on the golf course. This way, when you come upon one of them you have already rehearsed it in your mind and know how to play.

Likewise, when you are preparing for a presentation or meeting, you perform deliberate practice. You think about the objections you might encounter or the miscues that can occur and your rehearse them. For instance, how often have we seen the scenario where our PowerPoint fails us or the demo connect does not work. The best professionals have already thought about this and practiced for just such an event. They have a local script or a flip chart to guide the audience through. And because the visual aids are just that, aids, they often perform even better and come across as sincere.

Using a structured approach early in the process is another critical element in this goal setting process. At Bramasol, we're constantly trying to provide our customers with tools that help them understand the challenges ahead and to identify the key factors for success. For example, for companies facing the upcoming FASB/ISAB Revenue Recognition changes, we've developed a Checklist for Success with RevRec to help in their preparation and goal setting process.

So, we have heard that practice makes perfect… and perhaps this is overstated. However, failure to plan and practice is an invitation to failure. Whether you are getting ready for the 2015/16 NFL season or a simple presentation to 100 of your colleagues the steps I outlined will get you there.

Focus: understand your strengths and weakness and those of your team. Create a clear set of goals that are specific and positive to help you focus on what needs to happen and develop a blueprint to get you there. Then practice, practice, practice. By using deliberate practice you can be prepared for the inevitable glitches or challenges you will face.

Watch for the next post in this series, which will focus on Execution and Follow Through.