Listen to our latest Podcast on Improving Cash Flow and EBITDA with Active Lease Management. During this podcast, John Froelich, Bramasol VP of Marketing and Strategy, discusses Active Lease Management and explains how it can improve visibility of lease portfolios and cash flow along with enhancing financial performance.
The most important part of managing contracts and leases at any company is not what you know about them, it's what you don't know that can cost you. Without an enterprise approach to contract and lease management, organizations run the risk of taking a hit to the bottom line due to lost time. Having worked with a range of leasing solutions, including co-innovation with SAP on lease compliance, Bramasol finds that the SAP Contract and Lease Management (CLM) solution is among the most comprehensive and integrated approaches for both today and the future.
As a natively integrated solution that provides end-to-end life-cycle management for all your leases, SAP CLM is the best choice for SAP customers. CLM is fully integrated with SAP ECC and S/4 HANA and leverages your master data and GL without costly, complicated or difficult integrations.
In this Podcast, you will get to hear the following points;
What is active lease management?
How active lease management helps optimize your cash flow and your cash management?
The current situation we're in and getting to the next new normal.
Overview of SAP CLM.
How Bramasol can help you get ready with net new leasing solution in about 6 to 8 weeks?
Much more

or click here to read the discussion
To learn more about these key phases and to explore the details on how SAP CLM can help you have clear visibility into Finance and Operating leases to ensure you have them classified correctly impacting EBITDA.
Watch our Webinar on Improving Free Cash Flow Through Active Lease Management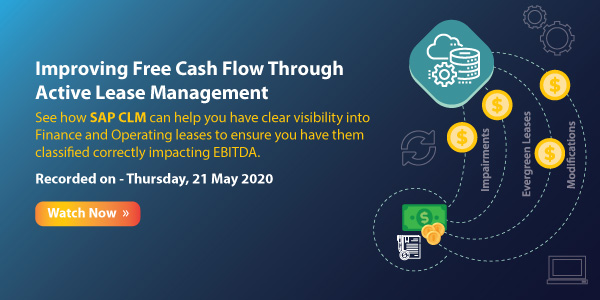 As a leader in compliance and finance innovation, Bramasol has introduced a new purpose-built CLM Rapid Solution that enables companies like you to quickly get up and running for ASC 842 or IFRS 16 compliance. It leverages the power of the industry's leading leasing solution, SAP CLM, and combines it with Bramasol's deep experience to provide a quick start that can get you up and running in weeks instead of months or years and for a price that you can afford. To learn more Click Here.
and Listen to our other Podcasts