In 2016, the International Accounting Standards Board (IASB) and the Financial Accounting Standards Board (FASB) issued new standards for lease accounting: IFRS 16 & ASC 842, which must be implemented by 2019. Both IFRS 16 and ASC 842 are the result of a joint effort between the IASB and FASB to meet the objective of improved transparency, comparability and financial reporting. These changes will impact virtually all companies, whether lessors or lessees.
In addition to presenting a new set of challenges that need to be addressed in the near term, the changes in lease accounting also offer an excellent opportunity for companies to make major improvements in their end-to-end lease management practices.
All companies, whether lessors, lessees or both, need to leverage the process of changing their lease management methodologies. This will allow them to gain better visibility of their lease portfolios, streamline the process of lease management and reduce overall costs.
As long-term innovation partners with SAP, Bramasol and Nakisa have brought together a comprehensive set of solutions and expertise to help companies assess and prepare for the new FASB and IASB leasing standards. These solutions unify disparate leasing data and provide enhanced visibility for companies to make informed decisions on their lease portfolios, assets and liabilities while conforming with the new requirements.
This new eBook provides a closer look at the key issues of Scalability, Enterprise Performance and Native Integration that are critical factors for success in implementation of new lease administration processes that maximize compliance, efficiency and extensibility.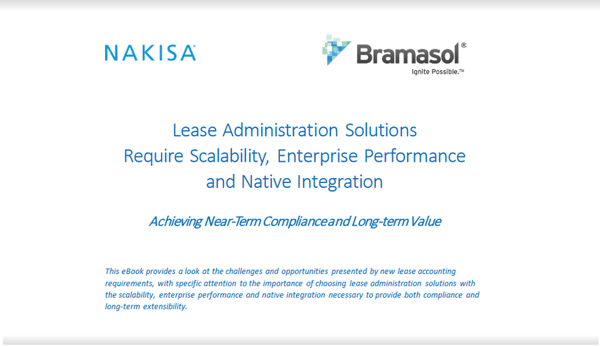 Click here to download the eBook on Lease Admin Scalability, Enterprise Performance and Native Integration.