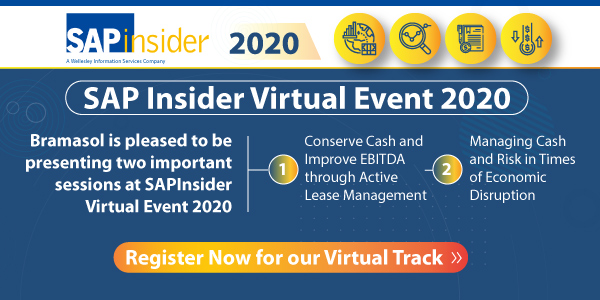 Bramasol is pleased to be presenting two important sessions on Business Continuity for SAPInsider Virtual Event 2020.
Click on the links below to read the abstracts and register for these events.
Register Here for the Kick-off Panel Discussion on May 21, 2020

Managing Cash and Risk in Times of Economic Disruption
Economists believe that current global events may have forever changed how our workforce operates. Remote access, application access requests, and cyber threats are all areas that have increased volume as employees turned to a remote work arrangement. This session will focus on using automation to gain efficiencies in your security processes and improve the effectiveness of your security controls, all while decreasing the level of effort. You will:

• Learn to take advantage of Access Control to get users access quicker while increasing compliance
• Learn about cyber risks when exposing your SAP environment to the internet and how to assess with tools like Enterprise Threat Detection and protect against them
• Understand that compliance isn't going away. Learn how to automate using continuous monitoring tools like Access Violation Management and Process Control to test 100% of your transactions and only review exceptions.
Speakers: John Froelich
Julio Dalla Costa
Kim Dowling
Conserve Cash and Improve EBITDA through Active Lease Management
One of the most highly affected areas of finance in today's crisis is lease and lease management. With dozens of companies, like Cheesecake Factory and others, canceling leases for stores or others canceling fleet or other movable leases, the impact of implementing those changes is monumental. In this webinar we will talk about some of the events occurring today, the impact to the balance sheet and income statement and how active lease management can save you money on impairments and evergreens through active lease management. You will:

• Learn about the impacts of today's economic disruption to leases
• Get a view of the specific impacts to the balance sheet of having to revalue leases
• Hear about the complex calculations required to re-amortize and re-value leases
• Learn about impairments and evergreen leases and their impact to cash flow
• Learn about how SAP CLM helps you take control of your lease portfolio
Speakers: John Froelich, Julio Dalla Costa, Carlo Maglinao
Shirish Khandekar