As part of Bramasol's ongoing series on Financial Innovation, this eBook provides an in-depth look at how the SAP Cloud Analytics platform can be leveraged to provide flexible, integrated Cloud Planning processes across a wide range of enterprise functional areas.
Most conventional finance management technologies have developed to serve specific "stovepipe" functions and therefore lack native capabilities for cross-integration between applications.
Some of the chronic problems that arise from these limitations include:
Inefficient separation of analytical capabilities and transaction data
Inability to accurately aggregate disparate data for decision-making
Lack of support to business transformation initiatives
Dependence on IT staff for creating specialized and ad hoc reports
Loss of productivity due to users juggling multiple systems and data sources
Because of these issues, most companies are forced to spend an inordinate amount of time coping with mundane but necessary challenges such as "keeping the lights on" and juggling data sources just to keep their head above water. Industry surveys indicate that 70 to 80 percent of time is typically spent on such problems. A key goal of Financial Transformation is to shift the balance in favor of spending less time on these non-productive activities and more time on driving business innovation.
In contrast, the approach to Digital Transformation for Finance developed by Bramasol in conjunction with SAP overcomes these limitations by bringing together Cloud functionality, Data from a variety of sources, Mobile access capabilities, and seamless connectivity to connect People throughout the enterprise and beyond.
As shown below, SAP Cloud Analytics is built around the core functionality previously known as SAP BusinessObjects (BOC), which brings together data, processes and collaborative communication capabilities within a single unified, interactive and adaptable environment.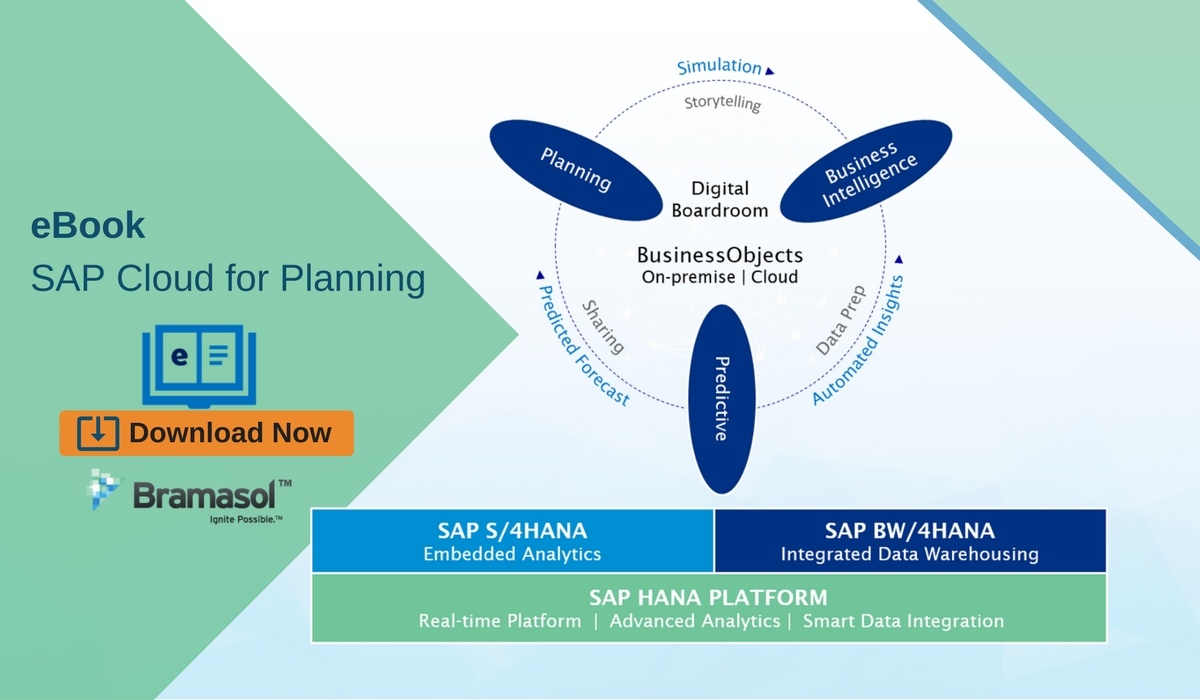 As described in this eBook, the SAP Cloud Analytics architecture and SAP Cloud Planning tool provide a highly flexible environment for extracting a range of different data sets from operational systems, aggregating them for analysis and then modeling a variety of scenarios to inform planning decisions. The tools are designed to optimize communication between key roles and to enable integration of Business Intelligence, Predictive Analytics and Planning processes.
These capabilities provide a vital set of tools for CFOs, planning staff and corporate decision-makers to help overcome the limitations of legacy approaches and to enable Financial Transformation to improve operational processes, productivity, and overall business results in the near term and the future.
Click here to download the eBook on SAP Cloud for Planning