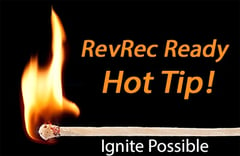 Bramasol, the leader in Revenue Recognition solutions, has announced a new, purpose-built product that reduces complexity and gives companies across a variety of industries a ready-to-deploy turnkey solution for disclosure reporting and compliance.
The RevRec Ready Rapid Compliance Solution leverages the power of SAP RAR and combines it with Bramasol's deep experience to provide a quick start that can get companies up and running in weeks instead of months and for an affordable price.
This complete, ready-to-deploy approach gives CFOs a proven, fast and reliable way to meet RevRec compliance requirements without the risk of getting stuck in a long, open-ended process that might not yield the desired results.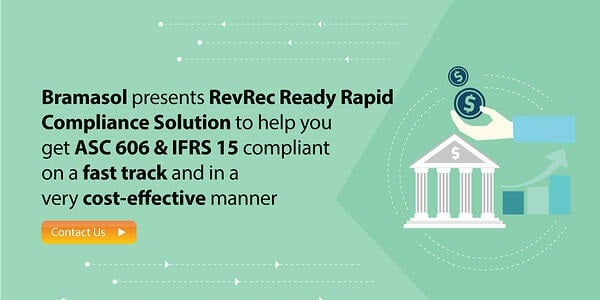 The deadline to get compliant with ASC 606 and IFRS 15 has passed but many companies are still struggling with complex reporting requirements. Many companies with relatively straight-forward sales structures and simplistic multi-element products/services don't want or need to become mired in overly complex RevRec solutions or long implementation processes. But compliance with the new standards is NOT optional, so they need a risk-free solution that fits their specific situations.
"I am very excited about our new RevRec Ready Rapid Compliance Solution" said Dave Fellers, CEO of Bramasol. "This solution delivers on our desire to help all companies comply with the new ASC 606 and IFRS 15 standards. It is designed for companies that have simple needs or found that a brute force method doesn't work and need a quick way to comply. We have leveraged our more than three years of expertise and created a solution that includes the key elements anyone would need for basic compliance. It is a great first step on the way to transforming compliance into competitive advantage."
Bramasol's RevRec Ready Rapid Compliance Solution enables organizations to get ASC 606 & IFRS 15 compliance on a fast track and in a very cost-effective manner. The pre-configured starter package includes the following:
Set up of SAP RAR in your environment
5 of the Top Most Common Scenarios for Revenue Recognition (scenarios only, no variants)
Set of BRF Plus Rules to Drive
Documentation
Minor Customization - labels, fields, descriptors, materials
Out of the Box SAP RAR Reporting
Support for First Quarterly Reporting
Time with our Center Of Expertise
Basic Training Package
Click here to learn more about the RevRec Ready Rapid Compliance Solution