The growing complexity of financial reporting and rapid changes have led to a substantial increase in demand for expert accounting advisory services. The financial reporting challenge is driven by developments in the financial reporting environment, with extensive modifications across many areas, and further waves of change predicted in the coming years.
One thing has become clear: whether you're launching a limited-scope project or a broad-based finance transformation program, there is a critical need to include knowledgeable accounting advisory inputs from the initial concept stage all the way through design, testing, go-live and full roll-out of the changes.

Listen to the latest episode of Bramasol's Insights to Action Podcast Series. In this episode, Bramasol's expert Julio Dalla Costa Director of Technical Accounting at Bramasol, provides a detailed discussion on what Accounting Advisory Services are and how they can make all the difference to the success of your finance change projects.
Learn the differences between Technical Accounting and Operational Accounting services and find how when you should consider seeking broader inputs and guidance to assure optimal alignment between your implementation program and your financial processing objectives.
You will get to hear on the following points;
What are accounting advisory services?
Changes in compliance standards.
How Bramasol can help?
and much more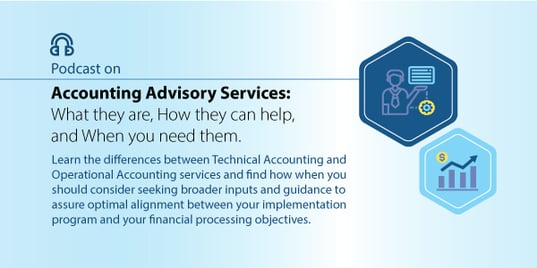 or click here to read the discussion
and Listen to our other Podcasts