Watch the webinar by experts from Bramasol and SAP recorded on Jan 24, 2019 to learn about the exciting new features in SAP Revenue Accounting and Reporting (RAR), release FP07. A major achievement in FP07 is seamless parity with existing features in SD RevRec, which opens a cost-effective path for companies to transition their Revenue Recognition processes into a more sustainable forward path.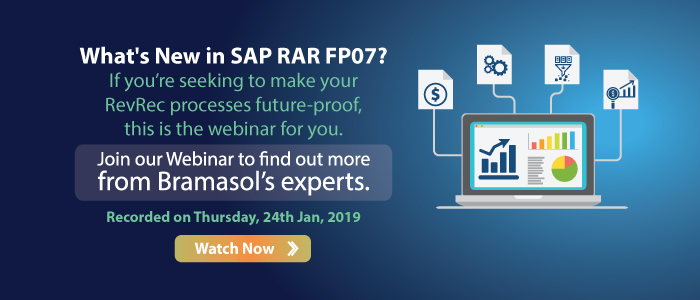 This also makes it possible to leverage advanced analytics in SAP for RevRec management.
Other features includes;
Improvements in SSP Attribute Changes,
Enhanced POB Validation,
Compound Structures with Non-distinct POB,
Positive and Negative Allocated Prices,
Enhanced Tracking of Contract Changes,
Integration of Proof of Delivery Process with SD RevRec processes, and much more.
If you're seeking to make your RevRec processes future-proof, this is the webinar for you. Watch Now