Day 3 - Thursday; May 9, 2019
All great things must come to an end! SAPPHIRE 2019 confirms that it was the most innovative cloud and business technology conference which featured game-changing technologies that enabled the attendees to meet their future and be a part of it.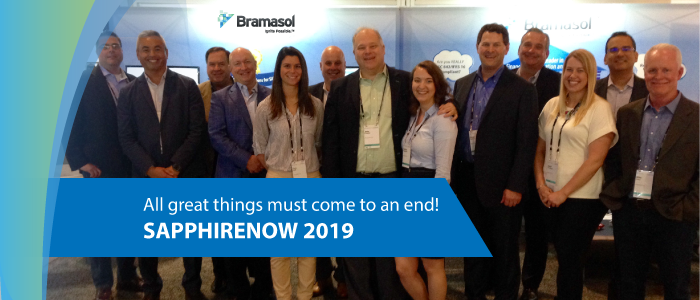 This week 30,000 visitors from more than 100 countries rushed to Orlando to be a part of SAPPHIRE NOW, SAP's 3-day celebration of business and innovation. The last day have been brimming with staggering introductions and workshops from SAP employees, partners and clients. Bramasol had a lot of fun discussing compliance to optimization journey with finance leaders.
What's more, obviously, Lady Gaga gave a show-ceasing performance for SAPPHIRE NOW participants. It's only one of the "million reasons" why the 2019 SAPPHIRENOW rocks.
Expecting lot more fun next year.We will see you then!
Day 2 - Wednesday; May 8, 2019
The morning started off with another great SAP Keynote, this time featuring SAP co-founder and chairman of the SAP Supervisory Board, shares details of how SAP is delivering the intelligent enterprise for customers using S/4HANA and cloud Analytics. Supporting his statement were great talks from Gerrit Kazmaier, Senior Vice president of SAP HANA & Analytics and Jerrit Smith one of the founders of Qualtrics. Expert guests shared the latest SAP solutions and technology innovations, and reveal how Experience Management and in-memory technology enhance the Intelligent Enterprise.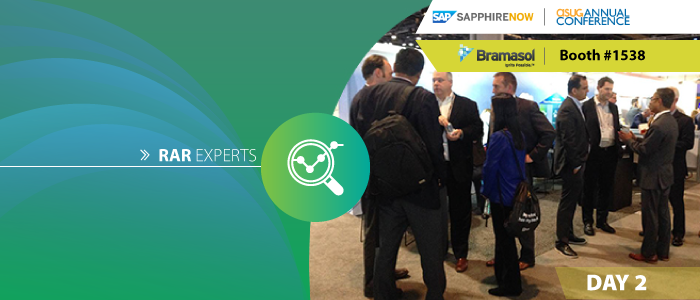 Our morning Leasing Demo proves that there is still great interest in the topic of Leasing and compliance with ASC 842 and IFRS 16.

Demos shown over the day included Treasury, RevRec and Central finance. Throughout the day we met with great customers and prospects who are beginning their Finance Transformation journey and are looking to Bramasol to help guide them. We shared our expertise and insights and discussed our ground-breaking Comply, Optimize, TransformTM Framework.

The Day held many informative Sessions and Demos that we all gained knowledge from, making the event a very interesting opportunity for personal as well as professional growth.

Check our tomorrow's demo schedule here

Day 1 - Tuesday; May 7, 2019


Day started off with an insightful and highly engaging SAP Keynote about "win in the experience economy" lead by SAP CEO Bill McDermott. Check out the 3 things to think about;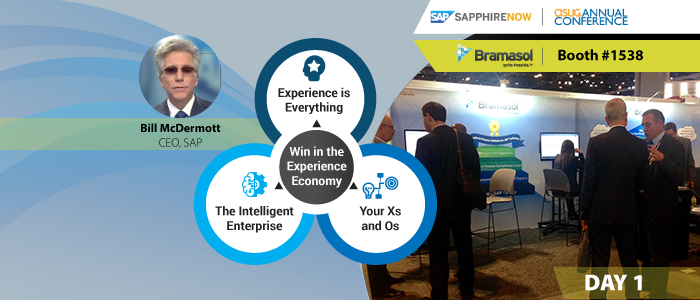 Thanks to all the great companies who came by and visited our booth and saw our demos. We also had a great time engaging at various discussions and presentations on Cash Management with Haresh Chhaya, Working Capital with Christian Mnich and IFRS 16 with Tom Anderson and John Chapman. Looking forward to another great day!!!
Leasing – The Power of Integrated Solutions versus Standalone: When Low Cost Isn't Really Low Cost
RevRec – Key Considerations for S/4 RevRec
Treasury – Cash Management
Day ended with the inspirational ASUG Keynote focusing on "The Power of You: A Pathway to Achieving Your Personal and Professional Best" with Outdoor Adventurist Bear Gryllis, Mark LeClair chairman of aSUG, Journalist Soledad o'Brien and Geodd Scott, CEO of ASUG
It was a perfect start and we are excited for two more days ahead.
If you are there remotely, stay tuned and check the live sessions.