Chosen as one of Forbes America's Most Promising Companies, the Packsize story is one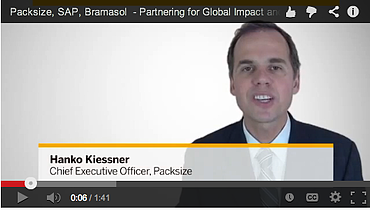 manufacturing companies need to watch. Learn how Packsize partnered with SAP and Bramasol to establish a solid foundation to support a yearly growth rate of 40%. After implementation of the SAP Business-All-In-One solution, Packsize has achieved global visibility into manufacturing demand and status, procurement needs and sales activity. With that result Packsize continues to attract marquee companies across the globe and recently just established a relationship with Staples as their sole supplier for On Demand Packaging®.
Check out the quick video featured Hanko Kiessner, CEO of Packsize and get a glimpse of their journey.
Need more detail on how they did it? In the webinar, the Packsize team discussed more deeply the impact of the solution and how Bramasol enabled them to be able to go live in under 11 weeks (around 9) and under budget, exceeding original targets.