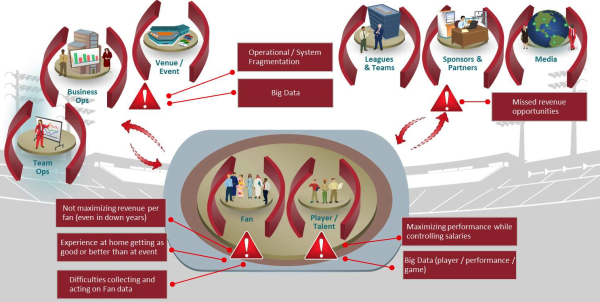 Does that picture above look familiar? Are you feeling like your venue operates in silos of information? We'd like to change that. Pop by the Bramasol booth 845 at IAVM this weekend and learn more about how to improve operational efficiency across your organization and address these challenges with insight to win:
How to get fans in seats when 52% of Americans now say they would rather watch a sport on TV versus attend in person (ESPN Sports Poll)
Implement better methods for documenting security offenses and identifying repeat offenders
How to optimize interactions in marketing when only 16% of organizations have a 360-degree view of customers
Get real time visibility into key business segments (ticketing, secondary ticketing, merchandising, food & beverage) and drive higher business performance
Whether you're a venue manager or an systems administrator, we can help you figure out what your pain points are: lack of visibility over the organization, scattered data, fan engagement, or any variety of unique issues to your organization.
Come see us at IAVM to learn how we can break through the silos and help your organization achieve maximum efficiency and run more like this: