I recently attended a webinar sponsored by SAP. The topic was Managing Big Data as Enterprise Information. There were two parts to this webinar: the first, a conceptual presentation around Hybrid Data Ecosystem by Shawn Rogers from EMA; the second, Marie Godell explained how SAP solutions support the Hybrid Data Ecosystem.
Shawn presented the concept of a Hybrid Data Ecosystem. Basically this is a multiple platform (OTLP, EDW, Hadoop, NoSQL .. .) environment providing data to satisfy business requirements. The Hybrid Data Ecosystem can address requirements within these five categories:
Economics - The tipping point of ROI vs investment.
Load - Mix of data types and sources, adding challenge and value to the environment.
Structure - Data source organization, models versus late binding and additional uses. Schema flexibility.
Analytics - Complexity of workload. Managing and overcoming obstacles of traditional systems.
Response - Speed to scale, speed to answer. Stretching the boundaries of traditional systems.
A Hybrid Data Ecosystem differs from the traditional enterprise systems, such as data warehouses, in that they have a central Analytic Engine which utilizes the strengths of the source systems. Instead of constantly loading all the data into a central EDW, a Hybrid model would leverage the source system to do the queries and data manipulation that they do best. You would only need to move data to the Analytic Engine when there is a clear advantage to having that data in this system.
In order for a Hybrid Data Ecosystem to succeed, you need to have the proper tools in place. The foundational pieces are the Data Integration Tier and the Data Management Tier. The Data Integration Tier may utilize existing ETL, Replication or other data integration tools, but as this ecosystem grows more complex you may need to look to the new product stacks being developed by the various Application and DB vendors. Data Management is key to leveraging data from various sources, keeping the data consistent and accurate. This can be a challenge in environments without strong data governance and/or siloed applications.
Shawn predicts that the Hybrid Data Ecosystem will only grow, both in complexity and adoption going forward. Companies will benefit from embracing the system sooner than later; putting the proper foundational components in place will position them for future growth.
In the second part of the webinar, Marie Godell presented the SAP solution set addressing the Hybrid Data Ecosystem. She outlined the need for solutions to address the need for Operational Efficiencies, Better Business Decisions and Risk Reduction. She explained how the SAP Real-time Data Platform addresses these areas.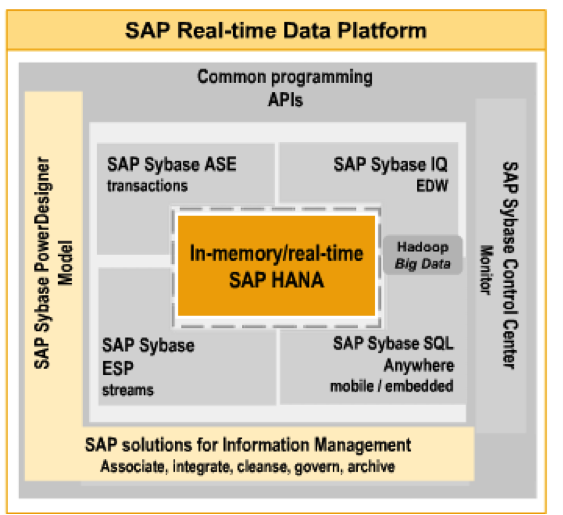 As you can see from the diagram above, SAP's approach is to have SAP HANA act as the Analytic Engine in the Hybrid Data Ecosystem. Not only can it support SAP applications, but also integrates with other technologies like Hadoop. In addition to SAP HANA, SAP also has its Enterprise Information Management (EIM) tools. SAP's EIM includes integration tools (SLT, Data Services, Replication) to provide a solid foundation for integrating the various components.