More and more customers are realizing that they do not have to work with interfaced, outside, non-integrated 3rd party revenue recognition software anymore. Instead they can implement and take advantage of SAP's new Revenue Accounting and Reporting Solution, now that it has been officially released.
The new software is a module in ECC, and also works with the Business Suite on HANA. It is separate from SD, and allows information from outside systems to be processed. The approach SAP has taken is that sales and fulfillment operations should not have to be changed in order for a complete and correct revenue accounting treatment in line with the new Accounting Guidelines by the IFRS.
In those cases where extensive customizations were used for revenue recognition purposes, in SD or outside of it, the new module will lead to a simplified approach, as most, if not all, of these custom objects can be removed after the implementation of SAP Revenue Accounting and Reporting. Needless to say, given that it is "state-of-the-art" programming, it also ties in seamlessly with SAP's approaches to parallel accounting.
So, what are the keys to achieving success with the new SAP application?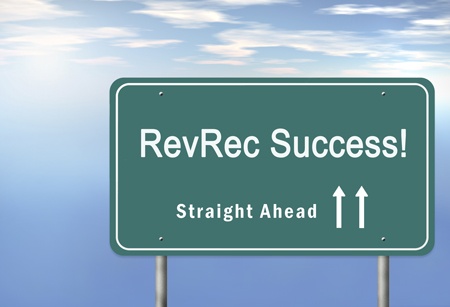 First, keep in mind that this is release 1.0 of the software, with significant additions in footprint, features, and options scheduled to come in quick succession over the coming months (release 1.1 later this year, 1.2 in 2016). But "coming features" means "features not yet present", which raises questions of workarounds and determining what is the best, possibly phased, implementation strategy to cover the organization's requirements. Viewed against a background of mandatory deadlines for the complete implementation of the new Revenue Recognition guidelines, this presents a challenging task for management teams and project management.
Which moves the focus to a second aspect: Unfortunately, the new module does not self-implement at all.
At Bramasol, we have worked in revenue recognition projects using standard "classic" SD transactions, building partial revenue recognition applications for specific uses, and complete custom "modules" similar to SAP's solution, if more limited. On these projects, we have worked in a variety of capacities, from designing to coding, to implementing and supporting. This depth of experience prompted SAP to involve us in the development of the new Revenue Recognition module from its earliest stages on. We have tested the first versions, and then applied our knowledge to the 1.0 release rampup program, as Financial or SD specialists, solution architects, or ramp up coaches facilitating quick and concise communication between the customers and SAP – we likely worked on more projects than any other partner of SAP in the United States.
Across all of these projects, we saw two common factors influencing the success of every project.
1. The projects run only as well as they can build on a consistent joint effort by all major stakeholders.
2. Projects have to be guided by a solidly structured approach with clarity and acceptance by all.
Parts 2 and 3 of this blog series will specifically address each of these key factors.
In the meantime, to gain a broader understanding of the overall challenges presented by the new revenue recognition standards, you can download one of the Bramasol ebooks on getting "RevRec Ready" or request a free consultation to discuss your specific requirements..